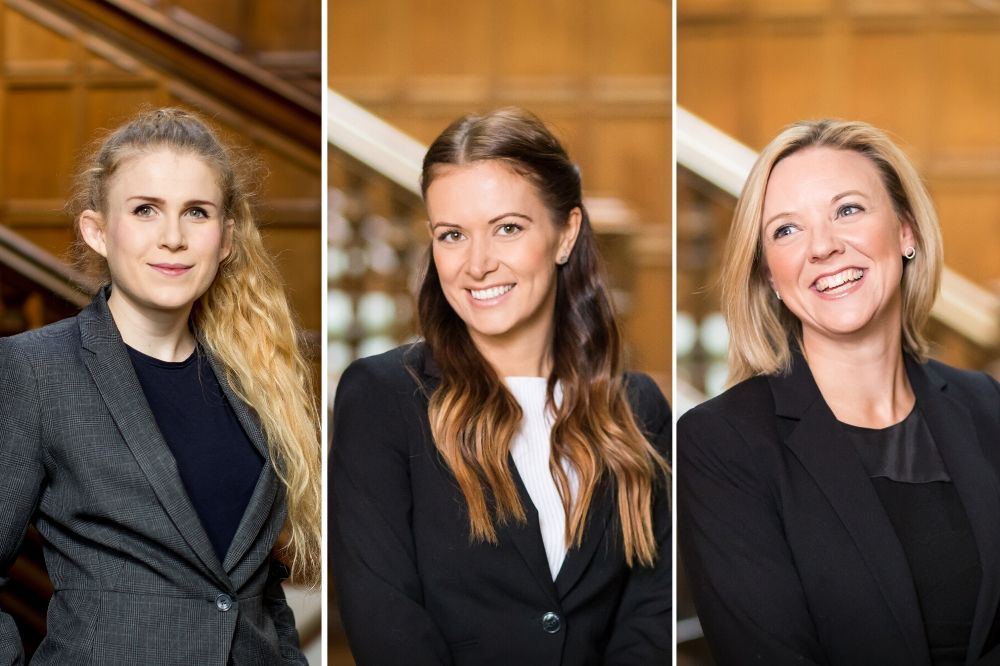 17 Dec

Plan your perfect wedding with our dream team

As we head into the main engagement season of the year, our wedding co-ordinators, Hollie, Morvern and Imogen, have all come together to give you tips about planning your big day. With over 15 years of wedding planning experience between them, these ladies have seen many different weddings all with great variety in size and style.  Our co-ordinators take recently engaged couples by the hand and lead them through the wedding planning process, suggesting suppliers to create their dream day and giving them recommendations and advice to ensure the wedding is stress-free and full of perfect moments which create lifelong, happy memories.

What new wedding trends do you see coming through?

Hollie: Couples are definitely becoming more conscious about sustainability when planning their wedding. You can still have an incredible celebration while considering your environmental impact. Make sure you ask your suppliers about their sustainability policy when you research different options, many of them are working hard to help the planet. Dundas has become more sustainable over the years by investing in 200PV solar panels in 2012 and installing a state of the art Biomass system in 2015. You can read more about sustainability at Dundas and gain further inspiration about how to incorporate this into your day through this blog link.

Morvern: Fun gin, Prosecco and cocktail bars have been a big thing in recent years and we can't see this trend disappearing any time soon. We are sure you have all seen horsebox gin bars on Pinterest and we know your guests will thoroughly enjoy getting to 'pimp their Prosecco' during your drinks reception. Grazing stations have also become a big hit with wedding couples. Whether they are served during after the wedding rehearsal the night before the big celebration or instead of an evening buffet to refuel your guests during the dancing, they are seriously instagrammable but also really delicious!

Imogen: Confetti has seen its day, couples are now becoming more imaginative for this photo opportunity. Pinterest has also inspired us with people using different coloured ribbons, giant pompoms, faux feathers, and helium balloon tunnels. The options are endless and you can end up with some unforgettable images for your mantlepiece.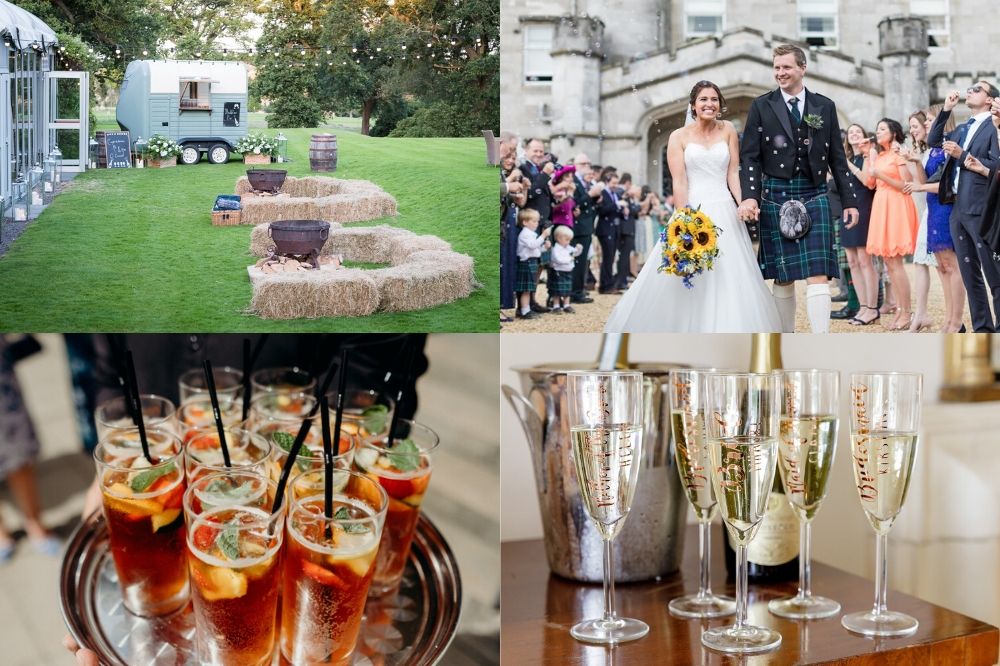 What is the most unusual thing a couple has requested to have at their wedding? 
Morvern: I have planned weddings at Dundas for over 10 years and have seen a variety of incredible themes and fun additions throughout the day. I think the best request I have ever received was to have a unicorn at a wedding. Despite being unsure how to source one at first, we did manage to pull it off and the photographs were lovely.
Hollie: The funniest thing I have seen at one of our weddings was when the best man was dressed as a giant T-Rex and handed out the canapes. In addition to this, the couple had organised a topiary T-Rex table plan which was over 6 feet tall! It is a wedding we will never forget, the couple were so much fun and I am sure the guests will always remember this special day too. You can view the photographs from this amazing wedding here.
Imogen: One of our couples had a love for Japanese culture and learned that the Crane is a traditional symbol of love in Japan. It is believed that folding 1000 cranes will grant a wish of one thousand years of happiness and prosperity for the newlywed couple, therefore they folded each crane by hand for their wedding day. The photos were so beautiful and it was lovely to see centerpieces and decorations that were slightly different from the normal flower displays. You can view the photographs from this amazing wedding here.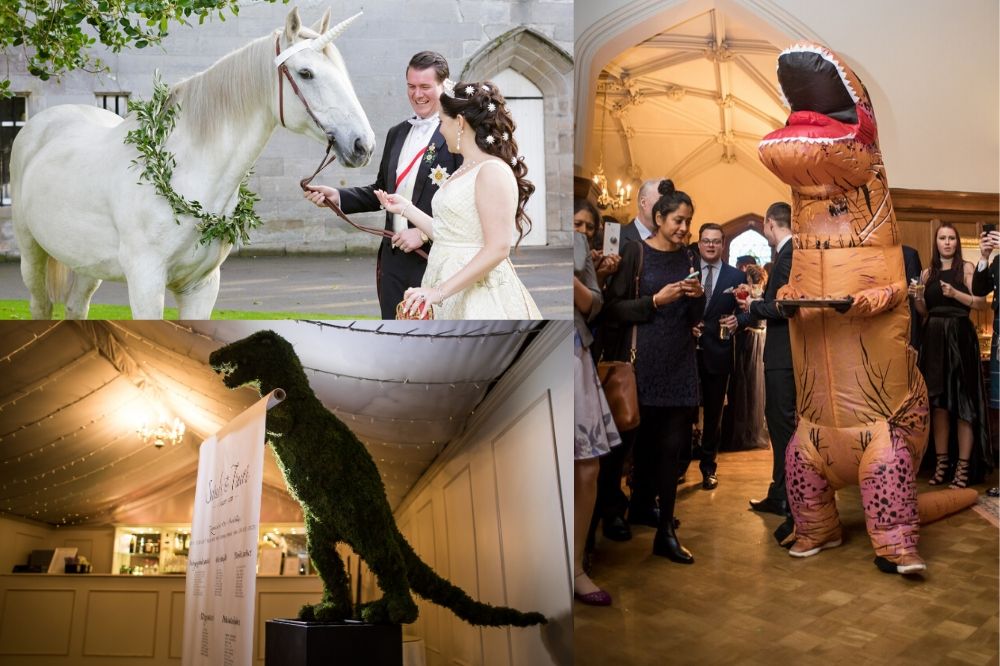 Are there any additional services that you would suggest using?
Imogen: One of our American couples had a welcome party the night before their wedding. They hired a clear marquee so they could have a BBQ in our Courtyard. All the guests were taught how to ceilidh which was a brilliant way for guests to get to know each other and it set them up for the traditional Scottish dancing on the wedding night. This is perfect if you are wanting a true Scottish experience in your very own Castle!
Morvern: Activities are a fantastic addition to a wedding. If you are staying at the Castle for more than one day or would just like an action-packed celebration, we have a number of suppliers who can provide everything from whisky tasting to clay pigeon shooting. Some couples will have a falconry display to entertain guests through the drinks receptions and others plan full Highland Games for the day before the wedding. There is something for everyone but they are a way to make your wedding even more memorable and good fun during the drinks reception and evening dance.
Hollie: Embrace your culture! Couples from all over the world get married at Dundas, and we love seeing their traditions and have learned many different ways to intertwine them into a wedding day. We have seen beautiful Chinese tea ceremonies, Japanese dragon dancing, Mariachi bands, African drum displays and much more. Of course, if you want to have a Scottish twist to your special day we can recommend a pipe band or a special beating of the retreat at the end of the wedding day to leave a lasting memory with your guests.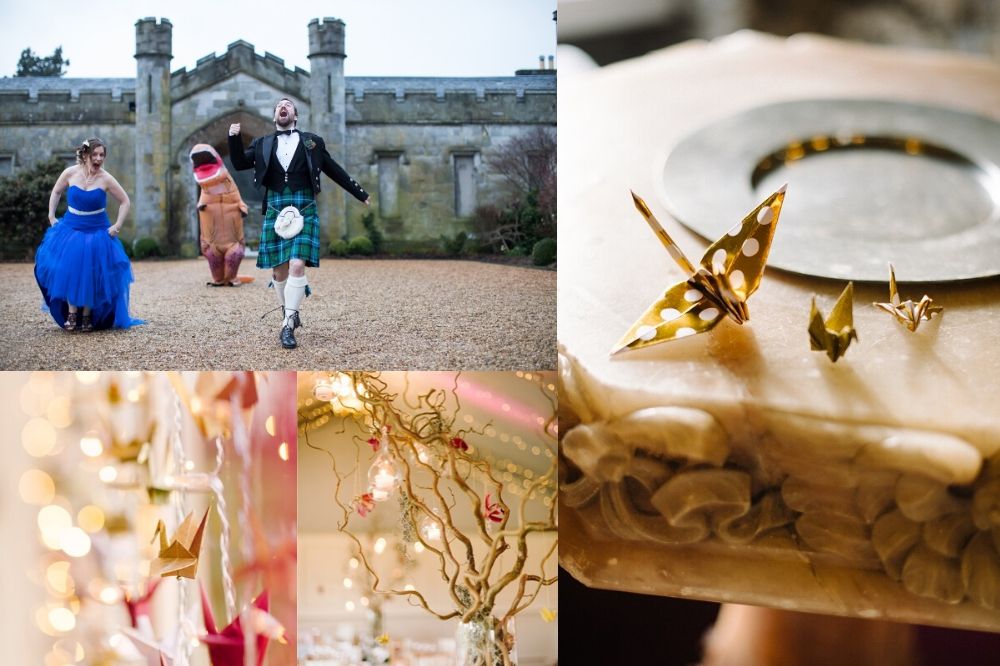 What is one key piece of advice you would give a wedding couple?
Hollie: Try and have as few suppliers to liaise with as possible. This can be achieved by using an agency to book specific elements of the day. For example, you can book your piper, drinks reception music and evening band all through one agency. It makes things easier for you by having fewer invoices and emails to keep on top of. I would also recommend creating a detailed list of everything you might want for the wedding and getting a quote for each element so you can set a realistic budget and prioritise where to use your funds.
Morvern: Don't overthink the table plan. This is often a task to be done in the lead up to the big day, which can sometimes be a stressful time. I suggest that couples open a good bottle of wine one evening and place the guests in groups, bearing in mind who it is that is paying for dinner! Your guests will be happy to be involved in the celebrations no matter where they are sitting.
Imogen: The time to plan a wedding varies for every couple; we can help plan a wedding in as little as three months if a couple is wanting to get married really quickly. For those who would like to book the venue 18-24 months before the big day, bear in mind that you will do a lot of planning initially when you book all your suppliers but there will be a lull before you need to plan anything else approximately 3 months before the big day. Try not to stress through this time, there are specific elements such as your menu that cannot be finalised until much closer to your wedding.
For further wedding planning inspiration, take a look at our Real Weddings blog.