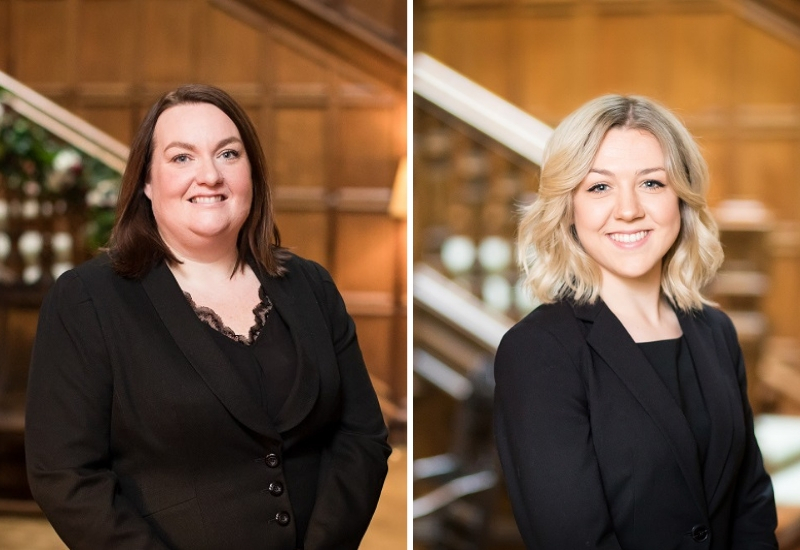 07 Mar

Dundas Castle Team- Jennifer and Emily

The next members of the Dundas team to give you an insight into their favourite parts of the Castle are our lovely commercial planners, Jennifer and Emily. This wonderful duo work with our corporate clients, private guests and charities to create events which are truly memorable. Whether our guests are only wishing to use specific parts of the Castle for the day or if they plan an extended stay, the ladies can plan the perfect dining experience, activities across the Dundas estate or day trips throughout Scotland.

Jennifer and Emily have been working at Dundas for over 6 years combined so they have extensive knowledge to create your dream event. Here are some highlights from their time at Dundas:

What is your favourite activity throughout the estate or within the Castle?

Emily: The 4×4 course! This offers a great opportunity not only for a bit of fun but it's a great way to explore the estate and find all of the hidden gems across the 1000 acres. If SUV's are not your style, why not take a trip on quad bikes- great fun for all ages!

Jennifer: For me, it's all about the food & drinks! We work with some incredible companies who create amazing, local produce for you to sample. Options include gin, whisky, craft beer, chocolate, cheese and local game to name but a few! If you would like to explore more of the Castle, our GPS treasure hunt where you use iPads to find clues around the building.

Tell us about one of your favourite events to plan during your time at Dundas?

Jennifer: We had a wonderful 90th birthday celebration here at Dundas earlier this year. The guests enjoyed a weekend programme packed with fun activities such as whisky tasting, falconry, clay pigeon shooting and off road driving. On the main celebration evening guests were pampered by an onsite hair & make up team, kitted out in full Scottish regalia and then treated to an evening of fine food and drinks with live music and entertainment throughout. The finale was an amazing pipe band and fireworks performance set against the grandeur of the castle façade. It was such a lovely and joyful event to help co-ordinate and host.

Emily: We welcomed a great corporate group, Taylor Hopkinson, to Dundas earlier this year. They were celebrating their 10th business anniversary with a team AGM and special awards ceremony. 21CC kitted out the Croquet Room and Pavilion with state of the art AV equipment and stunning blue lighting to match the company branding.

What is your favourite dining location within the Castle?

Jennifer: The Stag Chamber within our 600-year-old Auld Keep is my favourite location for an intimate dinner celebration. It works really nicely when the décor is kept simple with lots of candle light and greenery from the castle estate. To create the wow factor we can add medieval style pewter charger plates and goblets, statement floral arrangements or tartan table linen and this really transforms the space. Dining in this room with it's intimate proportions, atmospheric stone walls and collection of antlers is a must for any Outlander fans.

Emily: I love using the front lawn and Courtyard for alfresco BBQ's, drinks receptions and afternoon teas during the summer time. The Castle creates a very dramatic backdrop for our guests. This is perfect for larger corporate groups who have a highland fair through the day or for smaller private stays who would like to have a relaxed lunch out in the sun.

For guests that are travelling from overseas, what activities would you suggest during their stay to get the full Scottish experience?

Emily: For a Scottish experience I would definitely recommend a highland games day! This allows you to take full use of both the Castle and the estate with a bit of competition added in. Guests can enjoy traditional Scottish activities such as tossing the caber and tug of war! We also get a selection of local crafters in for a unique shopping experience.

Jennifer: We are in a convenient location where guests can see some of the best parts of Scotland within a short journey from Dundas. Within a 1 hour drive from Dundas Castle you can not only get to the 2 main cities of Edinburgh and Glasgow but also to St Andrews, the home of golf and Stirling with its ancient castle. Slightly further afield, Loch Lomond & The Trossachs are approximately a 90-minute drive, with the infamous Glen Coe just a 2-hour scenic drive away.

Photographs by Blue Sky Photography, Heather Longwell Films, Ryan White Photography, Rankine Photography, First Light Photography and Simon Williams.