04 Aug

Team building at the Castle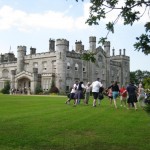 There has been a lot of activity on the estate this summer – literally. The combination of the wonderful weather, our new outdoor BBQ and buffet menus and the fantastic team building companies that we work with have led to many successful corporate and private activity days.
With manicured lawns at the front of the Castle and our own 4×4 course, quad biking track, abseiling wall and clay pigeon traps, we have seen a wide variety of outdoor activities taking place on the different parts of the estate.
At the start of the summer one of our investment groups was tested both mentally and physically as they partook in the fast paced, orienteering style 'Checkpoint Challenge' activity. The clients made use of the area close to the Castle as they navigated from one check-point to another, scavenging and taking photos along the way. The team from the award winning Maximillion event management company worked alongside our team to coordinated the highly successful day.
A few weeks later, on one of the hottest days of the year so far, a multi-national leisure group created a bespoke Scottish themed activity day to entertain their guests. Reel Time Events introduced the group to bagpipe playing, ceilidh dancing, tossing the caber and haggis hurling. This was very well received by the guests, especially when they enjoyed the whisky tasting for their efforts.
At Dundas we are always thinking of ways to offer our clients something different. We are delighted to be working closely with Maximillion and can now provide 'activities with a twist' options to our clients. By combining that which makes Scotland famous with a traditional Highland Games theme we have a new experience for our well travelled clients. From hunting for an elusive haggis to recreating a live battle scene painting, the teams will work together in various areas across the estate under the expert instruction of Maximillion's experienced team.
To speak to our Sales Executive email
[email protected]
or call Frances on 0131 319 2039