19 Dec

MORE BREAKING NEWS…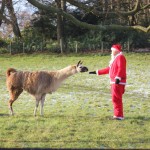 Rudolph has contracted the cervine strain of the terrifying man flu and may be unable to fulfil his duties this Christmas.  Luckily, Dundas Castle has stepped in to ensure that children across the world will still get their well earned presents this year.
The team at Dundas were surprised by a panic visit from Santa last week as he came to the Castle to appeal for assistance with his transport issues.
When Santa arrived we were quick to assure him that one of our llamas would be delighted to step into Rudolph's shoes.  Once our operations team had discussed logistics with Santa we decided to give him time to put his feet up in front of the fire while a nice cuppa was made.  When the team returned to the Library, however, there was no Santa!  The team split up and scoured the Castle for an hour before he was spotted taking in some fresh air on the front steps.  It wasn't until later on that afternoon, once we had dropped Santa at the airport, that we had a chance to check out the cctv footage.  Here are some snap shots of what we found…
We're proud of Laurence the llama for stepping up to the plate and taking on this very important role on the 24th December and wish him and Santa all the best for their lengthy travels.  Please note that should you be leaving a treat for Santa and his team on Christmas Eve, the discerning Laurence prefers Pink Lady apples over the common garden carrot!