29 Sep

Prince Philip and Sir Jack went to sea in a beautiful bright orange boat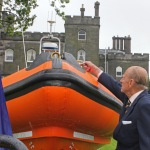 In August 2011 we were delighted to welcome HRH The Duke of Edinburgh to the Castle for a very special occasion.  Volunteers from the RNLI (Royal National Lifeboat Institution) met at the Castle to witness the naming ceremony of Scotland's newest RNLI boat.  The Atlantic 85 boat was named 'Jimmie Cairncross' after the Perth jeweller who was a Life Governer of the RNLI whose trust donated the funds that were required to buy the boat.
It was especially fitting that our owner Sir Jack Stewart-Clark was able to host the ceremony here at his home as he is the President of the RNLI Queensferry Lifeboat Station.  The naming ceremony is usually held at the waterside but due to work that is taking place at the lifeboat station it was moved to the Castle.  It was a lovely day and even the rain didn't dampen the spirits of the attendees.  Prince Philip even braved the rain to ceremoniously pour whisky over the boat as part of the naming ritual.
Tom Robertson, Queensferry's Lifeboat Operations Manager, commented that "In 2010 Queensferry was the busiest lifeboat station in Scotland with 74 launches, rescuing 138 people. So far in 2011 we have launched 40 times, rescued 62 people and saved three people from drowning".  The RNLI is a charity that is especially close to the heart of Dundas as we are located so close to the beautiful village of South Queensferry on the Firth of Forth river.  Many of our clients take the time to visit the area and it is the preferred location for a superb dinner for our guests staying in the romantic Boathouse on the Dundas loch.
The last boat used by the Queensferry RNLI launched over 700 times and while we hope that there isn't as much call for this boat to be used, we know that the wonderful crew of volunteers will enjoy making use of this brand new vessel for years to come.