23 Feb

Raspberry Jam recipe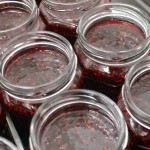 Here at Dundas we take great pride in being involved in the final menu options that our fantastic chefs propose each year.  We take each and every dish, accompaniment and condiment very seriously – even the jam is tasted by the team so that we are safe in the knowledge that our guests enjoy only the very best when they dine here at the Castle.
Speaking of jam… we thought it would be fun (and really interesting) for members of the office team to learn how to make the raspberry jam that we serve at breakfast.  Lisa, our wedding coordinator, wrote about her experience which was so enjoyable that we decided to share the recipe!
Ingredients
1 ½ Kilogrammes of Raspberries – frozen or fresh
1 ½ Kilogrammes of Granulated Sugar
Ounce of Butter
Method
1.    Mix the sugar and the raspberries together in a large pot.  Stir to mash the mixture together and get rid of larger lumps.
2.    Heat mixture and stir occasionally.  Bring up to the boil.
3.    Add in the butter and simmer for 3 minutes.  The butter should reduce the "scum" that accumulates in the pot.
4.    When the mixture has reached 105degrees on a sugar thermometer it should be ready.  If you don't have a thermometer you can do the drip test (see below), take off the heat and leave to settle and cool.
5.    Once settled for a few minutes, pour into sterile jars and leave overnight to set.
*Drip Test – using a large spoon, allow the mixture to drip off it until there are two prominent drips.  Once there are two very obvious drips, the mix is ready.