08 Apr

My Dundas Castle ~ Siobhán Leith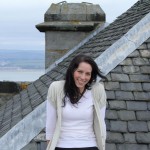 WW2 leaves its mark on Dundas…   There is one part of the castle that has always enthralled me and that is the roof of the Auld Keep.  The Auld Keep was built in 1416 by James Dundas as granted by Scotland's effective ruler at the time, the Duke of Albany.  Because the Auld Keep is very much the way that it was when it was built, you really feel as though you are part of the history and can easily envisage what it must have been like to live in the medieval tower when it was built.
The building itself has seen so much in the 595 years that it has been standing, but it's what happened only 72 years ago that really captivates me.
During the Second World War, the Auld Keep and Castle were garrisoned by the Royal Air Force and it is documented that it was for the purpose of protecting the nearby Forth Rail Bridge.  There are, however, alternative views that suggest that the Castle was occupied in order to protect the British ships and coast line that was under attack by German planes, battleships and submarines.  It is said that the Germans did not intentionally want to damage the bridge as should the war have been a success for them, the bridge would have been useful as it was an essential rail link throughout Scotland.  I managed to find an account from a man named Edward Thomson who, when he was a child on board a train crossing the Forth, witnessed the first surprise air raid attack by the Germans on the river on the 16th October 1939 – whilst terrifying, it must have been quite a thing to see.
My favourite part of Dundas Castle is that in clear view, on the roof of the Keep, the names and dates of some of the soldiers who were stationed during the war are etched into the tiling.  It is strange to think that the building that I work in has been such a vital part of so many people's lives.  I sometimes wonder what happened to all of the men who left their mark and I wonder where they are today.
'My Dundas Castle' by Siobhán Leith, Marketing Manager