13 Apr

My Dundas Castle ~ Jill Price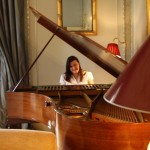 The Ivories catch Jill's eye…  As a young girl I enjoyed tinkling on our family piano and when I was aged 8, my parents encouraged me to have piano lessons.  From there it became a dream of mine to play on a grand piano.  Aside from the stunning surroundings and wonderful interiors, one of the first things to catch my eye when I joined Dundas Castle, was the beautiful grand piano in the Drawing Room.  I was simply itching to play it!
'My Dundas' is the C. Bechstein grand piano which has been in Sir Jack Stewart-Clark's family for more than two generations.  This is a German manufactured piano, with the Bechstein Company having been established in 1853 in Berlin. It has always taken pride of place in the Drawing Room at Dundas and holds many family photographs upon it.  Sir Jack's grandmother bought 2 pianos; one being the grand piano and the other a smaller piano. Over the years, however, these both fell in to a state of disrepair. When Sir Jack moved into the castle he made the decision to sell the smaller one to fund the restoration of the larger which we have at the castle today.  And what a restoration it is!
Originally it was Sir Jack's father who enjoyed the delights of playing this magnificent musical instrument and I believe Lady Lydia and one of her daughters still occasionally like to play. In fact, these same ebony and ivory keys have even been tinkled on by the famous Scottish pianist Steven Osborne when he visited Dundas.
When trying to find out when the piano would have been made I had to investigate online to see where I could glean this information.  There is either a serial number or a case number on each piano made and I discovered this one would have a case number on one of the main beams below the main case frame.  So off I crawled underneath to search and find what I was looking for.  The number carved into the underside beam indicates that it was made in the late 1920's.
I managed to hold off for a whole month from my first day at Dundas before my dream finally came true and I sat one lunch time and played this delightful piece of craftsmanship.  As Sir Jack played the drums in a Jazz band during his time at Oxford University, I've often thought about asking him if he wants a 'jamming' session!
'My Dundas Castle' by Jill Price, Office Administrator