06 Jul

Singing from the roof tops (almost)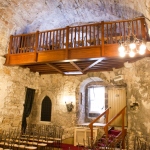 At Dundas we like to 'tick boxes'.   If you were to ask the Dundas team members which boxes the installation of our new minstrels' gallery would 'tick' you'd get a few different answers…
The building of the minstrels' gallery in the Great Hall was one of the final phases in the venue refurbishment by Sir Jack Stewart-Clark who owns the Castle. This grand room within the 15th Century Auld Keep was originally 2 rooms, one above the other, but when a brewery was installed in the 1600's the floor was taken out of the upper room making it one large room.  Many of our guests have already commented that the gallery is sympathetic to the medieval building and that the solid oak and classic structure compliments the romantic, historic atmosphere in the room.
Our sales executives are delighted to tick the 'capacity' box as the entire room can now hold up to 110 instead of 90.  The gallery can be used for guest seating for a wedding or awards ceremony, or for a string quartet, harpist or even a choir to provide entertainment for an event or wedding.   Due to the combination of the shape, size and dynamics of the room, the acoustics are perfect and no additional audio equipment is required.
Our slightly more romantic administration team are thrilled to tick their 'history' box as the construction of the minstrels' gallery has gone some way to bringing the room back to how it once was when it was built in 1416.
The final tick goes in the 'facilities' box.   The maintenance team are excited because we are now able to gain access to a previously inaccessible chamber.  Without the minstrels' gallery level we were unable to enter a room on the other side of the Great Hall.   The room hasn't been utilised for over 300 years and Sir Jack is elated to have another project on his hands.  We'll let you know as soon as a decision has been made on what we will do with the room.   Feel free to email your suggestions here!