03 Aug

Make-A-Wish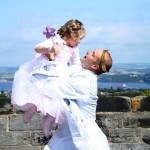 We were delighted when Make-A-Wish UK approached us to help make the wish of 4 year old Victoria Stewart come true. She has the life threatening Acute Lymphoblastic Leukaemia and was fortunate enough to be part of the Make-a-Wish Foundation charity. Her wish was to be a Princess for the day and to dance with a Prince.
On Tuesday 26th July 2011 the Dundas team arrived at the Castle early as there was much to do in anticipation of the 'royal' visit. Fiona appeared bedecked in glitter and ribbon, Morvern was laden with sweetie treats, Lisa was covered in Calligraphy ink, Siobhán floated into the car park in a Clio crammed with 20 huge helium balloons and Lucy was eventually found concealed under a mountain of Minnie Mouse and fairytale princess paraphernalia. Preparations had commenced weeks in advance with our Events Coordinator, Morvern, at the helm but the Castle was a hive of activity on the morning of the 26th. Ricarda whistled while she worked as she downloaded the Disney soundtrack, Sir Jacks private cook had been cooking up a storm since the day before, to create a tea party fit for a Princess and the maintenance team had been out planting fairy and princess picture boards around the estate (you'll see why later).
It was the perfect day for the surprise experience for little Victoria. Prince Charming (Phillip Bayne who is a volunteer for Make-A-Wish) was standing on the front steps of the Castle, along with Jordan Burns our cornet player who was to welcome her with a fairytale fanfare. With the sun shining down, the limousine that was transporting Victoria and her parents, pulled up to the front of the Castle. Her chauffeur had barely fully opened the door before Victoria had leapt from the car and run straight into the arms of her awaiting Prince.
After much excitement and many cuddles for her Prince, her family and our team, Victoria was escorted to her luxury bedroom where she would have her Princess make-over. Lucy Gourlay of
LG Makeup
(one of our recommended suppliers) was on hand with fairy dust, pink nail varnish and everything that a Princess desires. Make-A-Wish had sent us bountiful gifts for the Princess including her beautiful gown and pink shoes. In a Tinkerbell suitcase Victoria found a sparkling tiara, personalised pink bathrobe and everything that a 4 year old girl would love, from a Disney CD and colouring book to Princess themed beauty products.
Once the transformation was complete, Victoria made her way down the staircase where Prince Phillip was waiting for her to sweep her off her feet (literally). They danced to some Disney classics and finished with Victoria's favourite song "Lollipop" by the Chordettes. Unfortunately, however, their final dance was cut short by a very cheeky and spirited Jester! Mr Puffin thrilled Victoria with balloon modelling, games and tricks. Of course, no Princess' Castle is complete without a fairytale tower… with entourage in tow, Victoria made her way to the top of the Auld Keep and upon arrival, demanded that her Prince climbed to the top of the flag turret (much to the amusement of the family and our team and to the sheer panic of Phillip).
After the tea party Victoria was absolutely blown away when 2 plumed white horses, complete with vintage carriage, turned up to take her for a ride around the estate. Along the journey she spotted the fairy picture boards that had been scattered around the estate and was delighted when Sir Jack's llamas trotted over to see what the commotion was. On arriving back to her Castle, 4 puppies, courtesy of Guide Dogs for the Blind, were there to greet her. Victoria loves puppies and spent time playing with them and feeding them treats. The only issue we had was when the puppies were leaving and we realised we were missing one. Luckily a vigilant member of the team had spotted Lisa, our Wedding Coordinator, trying to sneak the smallest back to her desk. We are happy to report that Una was returned to her owner and the Princess did not have to demand a beheading…
After we surprised Victoria for the last time with a pink cake which she cut with the Dundas sword, we knew that her limo would be on the way. The Dundas team had such a wonderful day that we didn't want to see Victoria and her parents leave! It was truly a highlight in our events careers and one which we will never forget.
We are elated to champion such a worthy cause. It means a great deal to us to be able to help organise and share such a special day. Earlier this year we held an event for our
past wedding clients
to thank them for choosing Dundas Castle for their event and this is yet another way for us to 'give something back'. We are humbled by the hard work that Make-a-Wish does and by the generosity of those who have contributed to making Victoria's wish come true.
To see all of our photos from the day click through to our
Flickr page
.