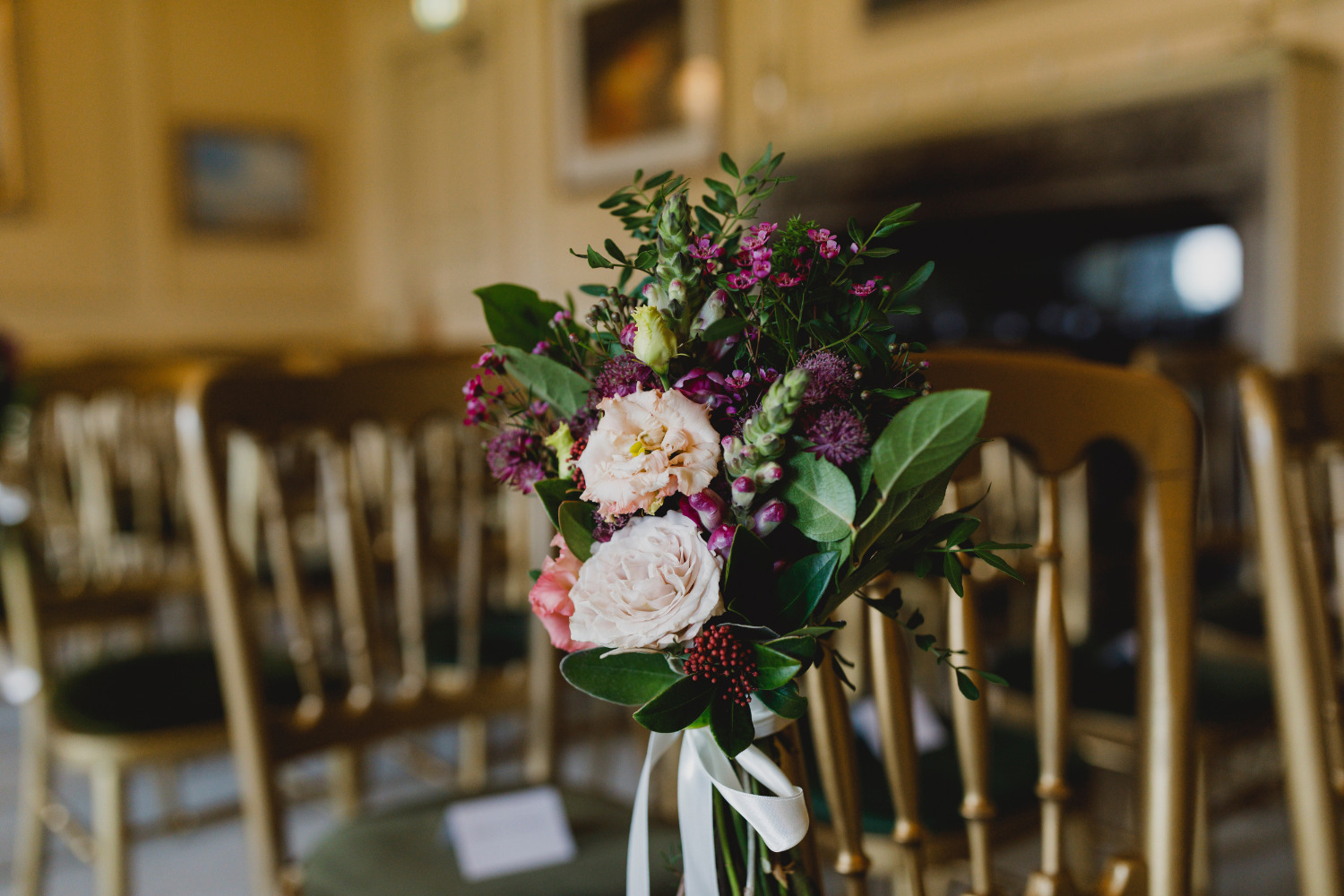 04 Jul

Indoor Ceremony Spaces

Dundas Castle benefits from a range of unique indoor and outdoor ceremony spaces. Each with its own charm; there is something to suit every style.

Our spaces include the rustic charm of an authentic Scottish Castle hewn from stone to more recent yet traditional backdrops which have a classic appeal. Each is truly romantic and can be personalised with delicate decorations to enhance the space or emboldened with larger arrangements, depending on your wedding vision.

Great Hall
Our 600-year-old Auld Keep is home to one of our most popular ceremony spaces, the Great Hall. This ancient chamber is perfect for both large and intimate celebrations, holding up to 110 people across the main floor and the minstrels' balcony above.
The vaulted ceiling and original stone walls epitomise a traditional Scottish Castle. The space lends itself perfectly to an abundance of beautiful candles which accentuate the romantic atmosphere.
The balcony is the perfect vantage point for the nuptials taking place below and can also be adorned with sprigs of foliage suspended from the balustrade.

Photography: Craig and Eva Sanders and Crofts & Kowalczyk Photography

Croquet Room
You will find the Croquet Room in the main body of the Castle, built in 1818. This room is beautifully decorated in neutral colours, providing a classic and timeless backdrop.
The Croquet Room can hold up to 80 guests and has a light and airy atmosphere due to the tall windows, which boast gorgeous views across the Castle's front lawn. In the cooler months, you can enjoy the crackling sound and warmth from the large open fire, with a cosy ambience like no other.
This space lends itself to bringing your vision to life; perfect for everything from minimal, delicate spring posies to grand arrangements bursting with bold colours.

Photography: Duke Photography 

Main Hall
The Main Hall is one of the more intimate spaces for your ceremony at Dundas, comfortably accommodating 60 guests.
Featuring a large stained-glass window, bringing a flood of light into the space, along with the warmth of the traditional wood-panelled walls, a magical combination for any ceremony. Couples can also utilise the grand staircase in their design, perfect for winding garlands, hanging decorations or soft tealights.

Photography: Blue Sky Photography

Both the Main Hall and Croquet Room are on the ground level and can be accessed by a lift, ensuring accessibility for every guest. Due to being classed as an 'ancient monument', access to the Great Hall in the Auld Keep is only possible by its spiral stone staircase.
With every ceremony space, the opportunity is there to make it your own. We share our list of some of the best wedding suppliers with our couples who can help bring your vision to life.