30 Dec

Happy New Year from Dundas Castle!!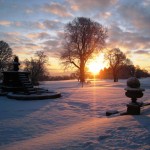 We've had an eventful year this year – we've been joined by 2 new members of the office team, 2 new members of the operations team, 4 new llamas, 1 new stable roof and celebrated our 1,000th wedding.  And it doesn't stop there…  We have a new minstrels gallery that is being built in the medieval Auld Keep that will increase our capacity from 90 guests to about 110 for weddings.  Watch this space for more information once it has been built at the start of 2011.
Here are some 2010 highlights from some of the office team in less than 15 words:
Lindsey – trying out one of our activity options – 'sailing on the Firth of Forth'!
Lucy – watching the estate spectacularly change with the seasons
Fiona – learning how to make an amazing fire to keep the castle cosy
Jill – attending some fantastic and fun events at other venues throughout the year
Siobhán – the Long Service Award Lunch to acknowledge and thank long-serving members of staff
Lisa – travelling up the drive using a quad bike when we were snowed in!
Frans – being part of the intimate weddings for two that take place in our Boathouse
Ricarda – Although strenuous(!) clearing paths through the snow for wedding guests was fun
Morvern – being part of a fantastic team, socialising out with of work… and at work!