19 Sep

Dundas hosts Scottish Government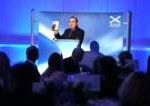 Recently Dundas Castle was proud to host the meeting of the 11th British Irish Council where leaders of the Devolved Administration including the First Minister of Scotland, Alex Salmond, attended a dinner along with leaders from Ireland and Wales.
As a traditional '5* Exclusive Use' venue, Dundas was the perfect choice to host this prestigious event as the dinner was to have a Scottish theme.
As Scotland played host to this event, it was important to use the best suppliers and industry partners to help to create a memorable occasion.  Prestige Scotland, Reel-Time Events, Sgiobalta and TSD Production Company provided Scottish fine dining, music, themeing and entertainment throughout the evening.
The evening commenced with a Champagne reception. While Sir Jack Stewart-Clark, owner of Dundas Castle, welcomed all of the guests to his home, the delegates were invited to explore the main house and enjoy the luxurious main reception rooms.Following the drinks reception, the guests were piped to the Pavilion where the Scottish theme continued as Saltires were projected on the ceiling above. The 120 diners enjoyed an address by Alex Salmond followed by a sumptuous 3 course dinner.  The menu was created by Dundas Castle's executive chef Stephen Frost who is renowned for his creative approach whilst working with specially sourced local, Scottish produce.As a dramatic grand finale to the evening a surprise Beat the Retreat was performed in front of the castle by the Royal Borough of Renfrewshire pipe band. For further information about corporate events and to book Dundas Castle, please fill in an enquiry form or call us on 0131 319 2039.