11 Jul

Disney and Dundas -a match made in movie heaven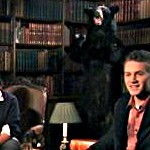 Regular followers of this blog will know that here at Dundas we are always up for a challenge! So when Disney contacted us and said they wanted to promote soon to be released  'Brave' by filming four TV specials here, featuring four different casts of international teen stars, in three different languages, and all in three days, we naturally jumped at the chance! To find out what happened, read on..What Disney wanted was a magical and authentic Scottish castle, with stunning outdoor and indoor locations, as well as period rooms for the young stars of 'Good Luck Charlie' to stay in, fully immersing them in the castle experience. Happily, Dundas fits this brief to a 't'.
Dundas has provided a beautiful and stately backdrop for many a film and television production, but little could have prepared us for the scale of Disney's transformation. The stately country-house elegance that permeates our public rooms was stripped away, replaced with a fantasy of medieval Scotland, as gilt tables, feathery sofas, and priceless works of art were unceremoniously removed in favour of suits of armour, candle-light, and a life size stuffed bear menacing the library (the reason for which will become clear when you see the film!). Most dramatic of all were the sets created in our 'Auld Keep' with a throne room created in our Armoury, and our dramatic Stag Chamber laid out for a medieval banquet, as the young American cast got their teeth (and accents) around the traditional Scottish delights of Haggis, Cullen skink, and Clootie dumpling!
One of the nicest sequences filmed was an archery lesson ending in an impromptu contest, against the beautiful backdrop of our Loch and Boathouse cottage. Archery has a special place in the fabric of Dundas, with our owner, Sir Jack Stewart-Clark being a proud alumnus of the Royal Company of Archers –a ceremonial order that is still one of the Queen's official bodyguards whenever she visits Scotland.
Looking after a film crew, 12 teen stars, 3 producers and a Disney Vice President as they filmed, reviewed and edited late into the night, was fun, exciting and ultimately hugely rewarding. With the TV specials in the can, and the Castle returned to its former elegant serenity, Disney reflected on a job well done, with VP Cardon Walker commenting – 'I've produced shoots for Disney all over the world, and this will go down as one of my favourites!'.
To see some of the results of Disney's toils, you can check out two entertaining clips from the specials embedded on our website's 'film shoot' page:
Lucky Scots will be able to catch 'Brave' from August 3rd, with the rest of the UK getting the film on August 17th.