04 Apr

Creating a conference that works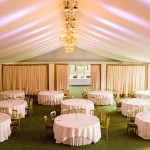 There are many ways to create an event that will leave people talking.   The content, of course, is primary as that is the main reason that the conference has been organised.  The delivery of the content is what will help the participants remember what they are being presented and the theme is what will bring the two together to make the event work. An event planner will want to create an event that not only stands out from the rest, but provides a positive atmosphere that will be conducive to a successful conference.
Conference themeing covers many aspects of event planning including the venue, the presentations, speakers, tone, catering and any information packs or gifts that are given out as participants leave.  The primary goal when selecting an appropriate theme is choosing one that will enhance the enthusiasm and attention of the participants and create an over all concept that is carried on throughout the conference.
The venue itself plays a huge role in defining a theme.  There is a wide variety of conference venues in Edinburgh from 'exclusive use' castles, to city centre hotels, to sports arenas.  Each brings its own atmosphere and character.  When choosing a conference venue there are two main areas to focus on that go hand in hand.  The meeting agenda should be consulted to ensure that the venue can cater for all needs.  This includes the indoor and outdoor facilities available and the location.  The other factor to consider is the budget.  Many venues will do a DDR (daily delegate rate) or total package cost that includes room hire, equipment and catering.  There will be a significant difference in cost between a city centre hotel and a venue that will belong entirely to the conference delegates for the duration of the event.  This is something to consider when thinking about themeing.  In a venue that is 'exclusive use', themeing is easier to control as there are no other visitors or guests in the venue.  This means that the conference concept and logo can be displayed throughout the venue where appropriate.
The design, style, atmosphere and ambiance of a venue can contribute heavily to a theme.  A sports car launch could work well at a sports stadium or a conference on shipping could work at a dock side venue.  There are some unique conference venues in Edinburgh that can offer some unusual and memorable atmospheres that would work well as the basis of a theme.  Dundas Castle is only 25 minutes from the centre of Edinburgh.  Built in 1818 the castle offers the elegant grandeur of a stately house with the warmth of a family home as the owners Sir Jack Stewart-Clark and his wife live in the castle.  As an 'exclusive use' venue the Castle belongs entirely to the client giving the freedom to use as many or as few of the conference, dining, reception rooms and facilities as required.