30 Sep

Congratulations Flora and Michael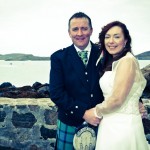 On 25th September 2010, our wonderful Head Housekeeper Flora married Michael Reilly at the spectacular and remote Kisimul Castle on the Isle-of-Barra.  They were very honored  to have Dundas Castle owners Sir Jack and Lady Lydia as special guests.  Sir Jack gave permission for Flora to use some Dundas Estate greenery to help decorate Kisimul castle which meant that she could take something from her 'home' in Edinburgh to her native home in Barra.
Another very personal touch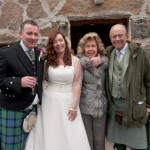 was that musician Blair Douglas had pre-recorded a special piece of music especially for the wedding march.  Unfortunately they had an over zealous piper who piped Flora all the way to the alter despite having been told on numerous occasions that there was planned procession music!  This didn't detract from what was a beautiful and memorable wedding day.  Flora and Michael had a wonderful honeymoon at Craigendarroch house on Royal Deeside and we all wish them much love and happiness in their future together.