26 Mar

Dundas team take part in 'Clean Ferry'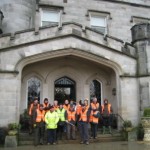 15 members of the Dundas Castle team took part in today's local community event – Clean Ferry.
Clean Ferry is a local South Queensferry group that is committed to environmental projects.  Today teams from the local community including Dundas Castle and Tesco took to the streets to clean up litter from areas across the town.  The Dundas Castle team were in charge of the B800 from the M9 Spur overbridge to the Ferrymuir Roundabout and the back road off the A904.
Despite the heavy rain and wind the Dundas team left the estate with high-visability jackets, litter pickers, bags and big smiles.  At Dundas Castle we are always looking for ways to take part in local community events and with the 'green issue' being so close to our hearts, this was a great opportunity for the team to do something for the community and the environment.
Well done team and thank you for bearing the bad weather for a great cause!
The team were – Marty Twaddle, Douglas Young, Jamie Paterson, Pat Pattinson, Lisa Muxworthy, Eilidh McGill, Debbie Twaddle, Jessie Young, Flora Reilly, Mike Bowman, Bob Green, Karol Makula, Linda Baete, Thomas Brumfitt and Jamie Hamilton.