01 Apr

Breaking news – 6 month project complete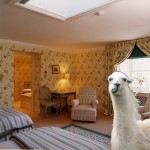 The Castle is pleased to announce the completion of the latest 6 month project to enhance the castle and the guest experience…  With the heavy snow fall that we experienced at the end of 2010 there were concerns over the wellbeing of the 12 llamas that we have here on the estate. Originally hailing from South America, our furry friends are more used to the Chile climes rather than the chilly ones. To remedy the situation the castle has been made into a llama friendly home. We are actively encouraging the llamas to come indoors into the castle when the weather is unfavourable.
To accommodate the llamas, a llama flap was installed into the main front door and bails of hay have been left in the corner of all 14 luxurious bedrooms and reception rooms within the castle. While the opulent Drawing Room has been adapted the most to house the creatures, they are encouraged to make the house their home as much as any other guest to the Exclusive Use venue.
A Dundas spokesperson, commenting on the exciting development said "when William Burn built the castle in 1818 we bet he didn't think that it would be home to 12 grateful llamas! We are delighted to be able to offer our guests the thrill of having llamas attend their events. What better end to a gala dinner than to spend time sitting with these woolly animals as you enjoy an after dinner liqueur. Or wedding guests can wake up to find llamas enjoying the ensuite bedrooms as much as they are. At Dundas we like to go one step further and have arranged for our in-house llama stylists to coordinate hoof polish or scarves to match the colours of a wedding party or corporate logo. And of course the llamas are available for a llama-drawn carriage using our Landau or Brougham carriages."
Editors Note:   Please note that some, if not all, comments above are not strictly true.  They were written on the morning of 1st April by a team member who perhaps should be spending her time doing her proper work!