03 Dec

The A to Z of Dundas: 'B' is for Boathouse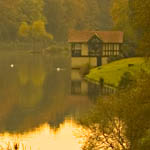 Nestled on the side of its own private loch, our Boathouse has been providing utter tranquillity and peace for honeymooners, anniversary couples, or those who simply want to get away from it all, since it opened it's doors to the public over a decade ago. The charms of the Boathouse have gained it a large and ever growing following, but few know of its interesting history…
The Boathouse was built in the early 19th century by the Dundas clan whose name the Castle and Estate still bears. As well as housing a mooring and a small rowing boat as the name implies, in the time of Sir Jack's Grandfather, the Boathouse was used as a location for lavish hunting lunches of the sort seen on the drama, Downton Abbey. It was also used in winter when the Loch froze over, in conjunction with the curling hut that still stands nearby.
When Sir Jack inherited the estate from his Grandmother in the 90's, the Boathouse was in a state of some disrepair, and much of the surrounding area was overgrown. It was one of the first parts of the estate to undergo restoration, with a shower room and kitchen added and a staircase to the mooring removed. A further radical restoration involved substantial rebuilding to make the Boathouse fit for another century of use, with every care taken to blend the improvements with the original.
Initially let to a long term tenant, the small cottage must have been a remarkable dwelling, but it has now found its true niche as a self-catering holiday cottage to be enjoyed by all. It is situated in 500 acres of wood and parkland, with the loch itself home to a myriad of wild bird life including swans, herons, ducks and coot. However, the location is only 8 miles from the centre of Edinburgh and 15 minutes from the airport. The charming town of South Queensferry with its quaint stores and waterfront restaurants is a 5 minute drive away. Though the guest feels a million miles from the outside world, it is in fact a very reachable hideaway!
To see some larger images of the Boathouse, why not check out our Boathouse board on Pinterest. To book the Boathouse, or to order a Boathouse voucher as the perfect Christmas gift for a friend or loved one, you can call 0131 319 2039 or fill in our easy online enquiry form.