07 Feb

Meet your chefs – Stephen Frost and Trevor Garden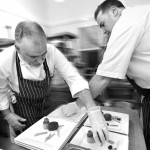 Prestige Venues and Events is Sodexo's dedicated fine dining, conference and events branch for Scotland and is proud to represent and support this country's great culinary heritage. The team are truly committed to using fresh local ingredients and to building and nurturing long term relationships with all their suppliers to ensure the high standards we expect are delivered.
The company's philosophy of 'sow, grow, create and serve' is reflected in each and every aspect of their business, especially in their approach to creating and delivering innovative and exciting menus. Prestige Scotland is fuelled by a passion for great tasting food – it's the vital ingredient in everything that they do and is why, here at Dundas Castle, we are proud to offer our clients Prestige Scotland as our catering partner. We have a fantastic relationship with the team at Prestige Scotland and meet with the chefs each year as they present our new menus.  At these menu tastings we are talked through the dishes and learn about the ingredients and cooking methods so that when it comes to helping plan client events we are able to offer sound advice based on experience, no only fact. Meet our chefs…
Stephen Frost – Divisional Executive Chef

After years of working in restaurants, Stephen Frost has become Prestige Venues and Events' roving food expert, driving all over Scotland to provide the best cuisine in a range of historic and sporting venues. Stephen's experience spans over 30 years in a wide and varied background, including a spell running his own restaurant and six and a half years as Regional Executive Chef for Macdonald Hotels & Resorts.
Trevor Garden – Executive Chef

Ask any chef and they'll say that a great dish begins with fresh produce. Trevor's belief in this goes a little further. As well as using the best locally sourced produce, he goes foraging for interesting ingredients to make his dishes extra special.
And Prestige Venues and Events actively encourage him! After all, what better way to get a real taste of the local environment than eating its freshly picked wild produce. From wild garlic and mushrooms, to hawthorn berries and salads with edible flowers, each menu that a client is served is a seasonal story. Each dish a mouth-watering chapter.Having formed close associations with a number of well known Scottish suppliers, Prestige Venues and Events' executive chefs are free to exercise their talents and produce the remarkable menus for which Prestige Scotland is renowned.