23 Feb

Jam making at the Castle, by Lisa Muxworthy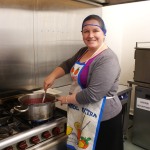 It's not everyday that a wedding co-ordinator gets to don a hair net and a pinny but today at Dundas that's exactly what I did!!
Using the finest Scottish raspberries, I joined a few other members of the Dundas team to learn how to make jam.  Under the expert instruction of the lovely Executive Chef of Prestige Scotland, Stephen Frost, we made jam ready for Castle guests to enjoy over breakfast on home made croissants.  I have removed the stalks from enough damson plums and strawberries in my time whilst watching my grandmother making jam to know that the process is simple yet delicate and Stephen's recipe was remarkably similar and equally tasty.
Stephen set us to work bursting the raspberries against the sides of the pan over a low heat until they softened before mixing in an equal quantity of sugar.  We slowly stirred the pans making sure nothing caught on the bottom while we chatted through his top tips.  He told us that the best fruit for making jam is slightly under ripe, as this is when the fruit has the highest amount of pectin in it (the natural setting agent) so the jam will have the perfect consistency.  Interestingly he also recommended freezing fresh fruit should you not be planning on eating the jam right away, rather than leaving it to stand for a few months ready made as the flavours will be infinitely better.  I also hadn't appreciated that you should always store jam at room temperature rather than in a fridge, so will be finding a new home for the collection that can currently be found in mine.
As the pans began to boil a white layer appeared on the top which most people will tell you to skim off.  Just before I could impart my Grandmother's secret ingredient, Stephen dropped in a small lump of butter beating me to it, but it certainly did the trick and the froth dissipated.  We then began the delicate stage of judging exactly when the jam was perfectly mixed.  This was very interesting…  we spooned a ladle-full of jam and then tipped it back into the pot.  You would normally expect the jam that falls from the spoon to be a single stream but when jam is ready it falls in two separate streams from the ladle.  Having discovered that it wasn't quite ready we started chatting about other ingredients that could be added to jams.  Vanilla and Earl Gray were some of the considerations, but we all decided soaking the raspberries in champagne first would make a lovely addition and be a welcomed treat over breakfast!!
Finally the mixture was ready, so we poured it into clear jugs.  This would make filling the jars easier and give us the opportunity to see that the pips were evenly spaced throughout, rather than sinking to the bottom.  Slowly we filled each of the sterilised jars almost to the brims, minimising the amount of air in each before tightly closing the lids ready for them to cool.
The whole process took less than an hour and we are left with 34 lovely jars of raspberry jam.  If you're lucky enough to find yourself at Dundas for breakfast over the coming months do have a taste and let us know what you think, or of course click here to see Stephen's recipe and you can make your own to enjoy at home!!