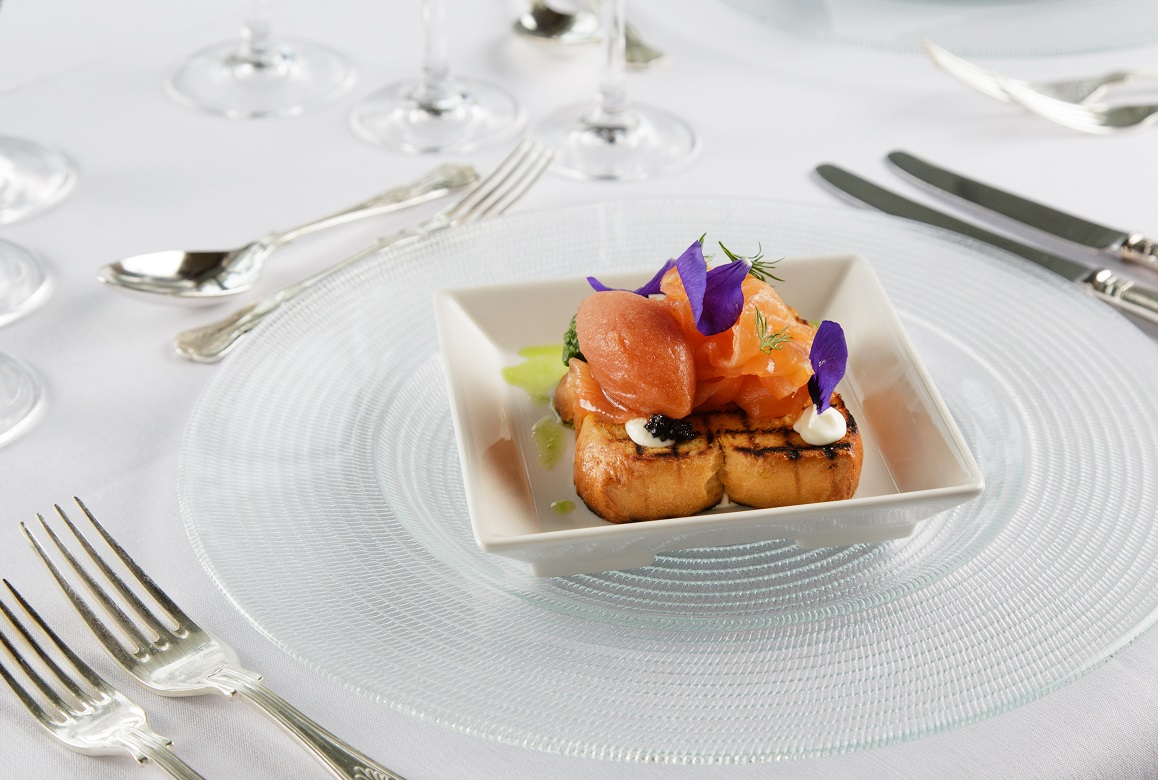 26 May

Food, Glorious Food!

Here at Dundas we love any opportunity to try the amazing food by our fantastic caterers Prestige. So when the time of year comes around for the menus to change there is a real buzz around the Castle… as this means a tasting – definitely our favourite office activity!

We were lucky enough to have an evening of trying extraordinary food combinations with flavours that we couldn't even imagine working together and which reflect just how skilled Prestige are at creating dishes that taste as beautiful as they look.

We all agreed the next day that we had all been dazzled by the tasting. The quality of the ingredients, the way the food was served and presented followed by the surprising tastes had blown us all away and we couldn't wait for the launch of the new menus. There were some dishes in particular that stood out for everyone and we were all in agreement deserved the label of 'Dundas Signature Dish'…

Kirsty, our newest addition to the office, Kara– one of our three vegetarians (a high percentage in an office of only eight people!) and Lucy, our General Manager have written a few words describing these wonderful dishes which we know the guests of Dundas are going to love. We also spoke to our Chef Tom Beauchamp, so that he could give us some background on each creation.

Oak Smoked Salmon Char–Grilled Brioche Trencher, Bloody Mary Sorbet, Kale and   Almond Pesto, Caviar, Sour Cream and Green Herb Oil.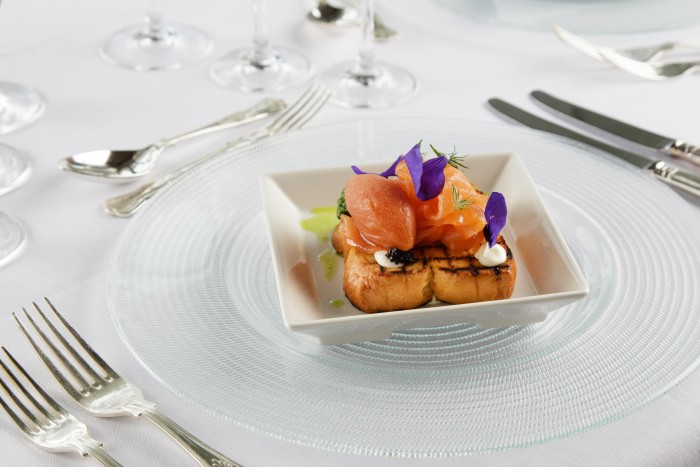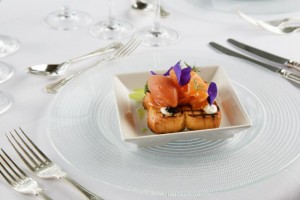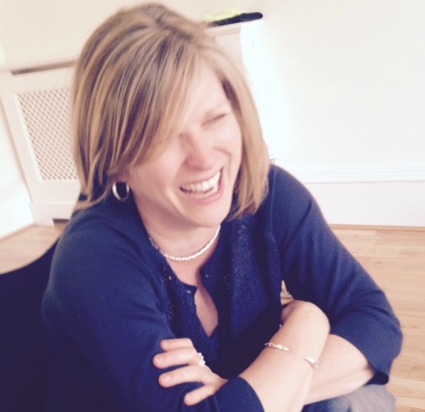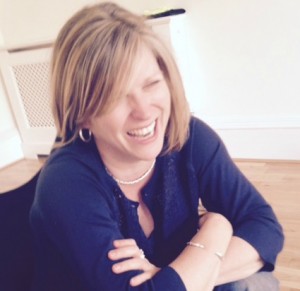 "This is a well-loved traditional dish of Smoked Salmon but with an unexpected delicious twist!  Combining a Sorbet with its temperature and texture and adding the 'modern' Pesto just shows how creative Tom is. Genius!"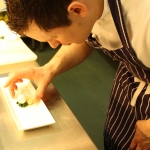 "With this dish we wanted to take that most quintessential of Scottish ingredients, smoked salmon, and create something unique and surprising. Pairing the smoky, salty fish with the freshness of the sorbet and the earthy, nuttiness of the pesto brings an exciting and complex combination of flavours. Definitely a dish that will have your guests talking! "
Caramelised Potato Gnocchi, Soft Goats Curd, Salsa Verde Baked Heritage Tomato, Roast and Pickled Shallots, Parsley and Oregano Sauce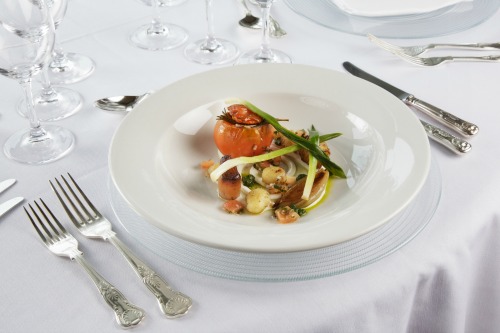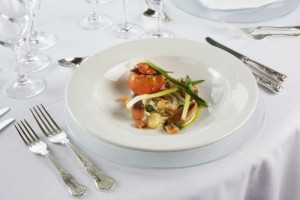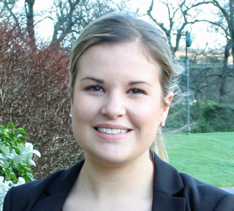 "This dish was hands down the best Gnocchi I have ever tasted. As a vegetarian I have tried many, but this was crisp and light rather than stodgy, with amazing flavours. Tom told me that it was handmade in Italy by a small Artisan producer, and I think this absolutely shows- you can taste the time and expertise that has gone into it. Delicious!"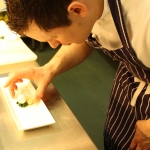 "We really want to focus on creating vegetarian offers with the same flair and imagination that we show in all our other dishes.  There are some really vibrant flavours in this dish; a lively salsa verde that combines cool, salty, sharp and fresh all in one go, a sweet and herby baked heritage tomato and that gnocchi, crisp and golden."
Milk Chocolate and Salted Caramel Mousse, Passion Fruit Sorbet, Dark Chocolate Brownie, Passion Fruit Syrup and Tuille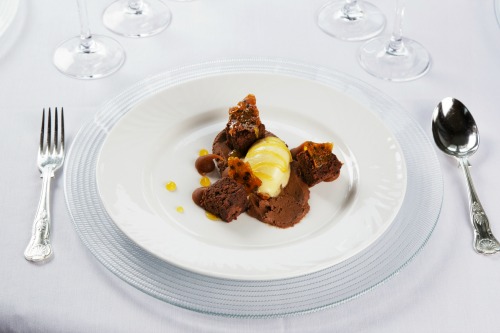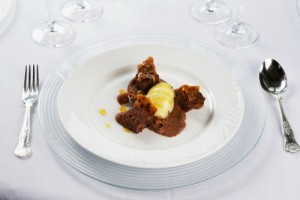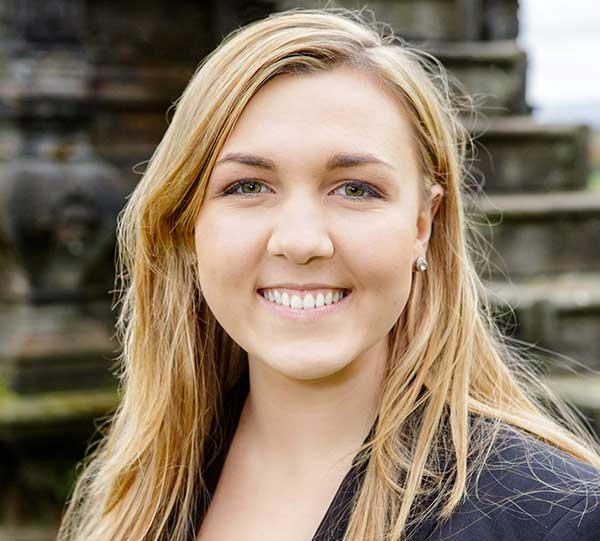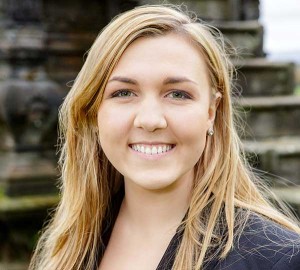 "As a self-confessed chocaholic, this dessert combines everything I love about food to make a delicious dish with enticing textures and a scrumptious taste. In three words, YES, YES, YES!"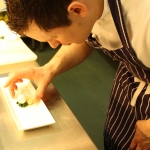 "Ending a meal with chocolate is pretty much the perfect finale, however we really wanted to lift and lighten everything so pairing an airy caramel mousse with a sharp fruity passion fruit was an obvious choice. Cool sorbet, fresh passion fruit seeds and pieces of home baked  brownie offer everything in the way of flavor and texture you could ask for."