16 Nov

Mouthwatering menus, exclusively yours!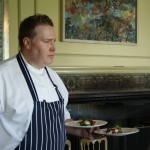 Each year we spend a lot of time working with Prestige Venues and Events to create a menu that will not only work well here at the Castle, but will excite and enthral our clients.  Many of our dishes have been created specifically for Dundas and are very well received by our guests!
Once the menus have been finalised we have a 'tasting' session where we sample the dishes that we serve and learn about how the dishes are created.  Our Executive Chefs talk us through the ingredients which are all fresh and locally sourced and a sommelier from our wine supplier educates us on the wine list.  With all of this information we are able to talk our clients through the menu options so that each dish that is served at an event is the perfect choice for the guests, the season and the type of event.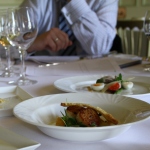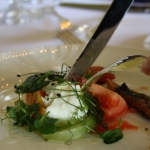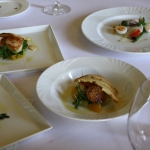 Here is a sample of some of the favourite dishes from some of our team members.
David Forbes – Prestige Venues and Events General Manager for Dundas Castle
Apricot Risotto finished with White Chocolate, Peach and Strawberry Salsa, Roasted Peach in Thyme Syrup.
For me this would be the perfect ending to any meal, a sweet risotto with the rich creamy flavours of apricot and peach with the lingering hint of Thyme, served with a sweet roasted half peach on top.  This dish was served in 2 different ways – cold and hot which would satisfy either a summer or winter event.  My preference was the hot – and if I could describe this in four words… "Hug in a bowl".
My wine choice for the cold version would be the Spy Satellite Sauvignon Blanc because gooseberry and apricot are the characteristic flavours in New Zealand Sauvignon Blanc and therefore compliment the fresh, fruity flavours in this dish.  For the hot version I would recommend the fruity Laurent Perrier Rose champagne as it is only made from Pinot Noir grapes so it is full bodied yet deliciously sweet.
Ricarda Plews– Operations Manager
Pea Veloute with Coconut Foam, Spiced Beignet
Served in an espresso cup this amazingly smooth veloute is the ideal winter warmer/summer refresher that is so versatile it could be served at any time during an event, not just as an intermediary course. The smooth, creamy texture is attributed to the creamy stock base to which fresh garden peas are added before being blitzed to leave a vibrant green soup.  The spiced beignet, a fritter made from a choux pastry mix seasoned with chilli and corriander provided a little bit of bite and was delicious when dunked through the coconut foam! This surprisingly light dish can be nicely complimented by a glass of Il Banchetto Trebbiano Chardonnay.
Lisa Muxworthy– Wedding Co-ordinator
Vodka & Coriander Cured Shetland Salmon, Beetroot Vinaigrette, New Potato and Creme Fraiche, Watercress Salad
This delicious fillet of Sheltand Salmon was deep in colour and even more so in taste.  Cured with coriander and Finlandia Vodka, for the more subtle taste, a lot of preparation goes into this dish with the curing process staring some 48 hours before it goes to the kitchen!  Served with a timbale of fresh Scottish new potatoes in crème fraiche and topped with watercress, this dish is a wonderfully contemporary take on a traditional Scottish salmon starter.
Frances Lambton– Sales Executive
Scottish Mozzarella & Heirloom Tomato Salad, Thyme Olive Oil, Fried Basil, Black Olive Bread Croute
This dish is very much a seasonal starter with the Heirloom tomatoes at their best between May and September. The vibrancy of the colours in this dish are wonderful from the deep reds to the pale green varieties of tomatoes making this dish a very different take on a typical tomato and mozzarella starter.  Served with Scottish Mozzaerlla, sourced from West Lothian and made from cows milk rather than buffaloo milk, this variety of mozzarella has a lower fat content and therefore has an unusual and lovely texture.  Drizzled in a thyme infused oil and topped with a black olive croute this dish is ideal for a summer event or as a light starter before a substantial main course.
Ben Pearse – Event Co-ordinator
Bourbon and mint parfait encased in Chocolate, Mint Granite and Sugar Crackling
This dessert is one of my favourite dishes on the menu and is produced by Prestige Scotland exclusively for Dundas Castle. The parfait is made with Chef's favourite tipple and freshly picked mint leaves to give a full bodied yet remarkably refreshing taste. The mint granite is a rough style of sorbet which makes this dish a bit quirky, while still being a comforting chocolate dessert.  This dish would be delicious with a chilled glass of rose champagne or even an after dinner liqueur.
Click here to read more about our caterers and the menus that we look forward to offering our guests.