16 May

Delicious new menus 2012: Our team's tasting highlights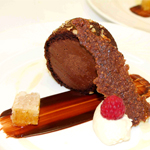 Running a five star exclusive venue keeps us on our toes, so it is nice when we can benefit from some of the perks! Undoubtedly, one of these is the annual menu tasting, where award winning Executive Head Chef of Prestige Venues and Events Trevor Garden comes to the Castle to showcase the coming year's bespoke menu, and a delighted Dundas team get to sample the results –purely to give their professional appraisal of course!
Dishes served at Dundas must not only compliment the surroundings and delight both the eye and the palate; they must be suitable for a wide variety of events, from gala dinners for 200, to intimate boathouse dinners just for two. Having digested the dishes, some of the team gave their opinion on their 'dream menu' for a specific type of event. Warning: do not read this post if you're feeling hungry!
Trevor always manages to surprise us, and this year was no exception. Creating a set of dishes that draw strongly on the heritage and provenance of the finest local and Scottish ingredients and recipes, as always, he presents them in a flawlessly modern and quirky style. To compliment this, our guests are thrilled when the dishes are served with unique flair by our Catering General Manager David Forbes and his team, with tables simultaneously served by ranks of waiting staff in immaculate monogrammed Dundas uniforms. Creating maximum anticipation for the food that is about to be enjoyed; they make it look easy!
Ricarda Plews: Wedding

"A wedding menu must be one that pleases not only the newly weds, but also their friends and family, who may encompass a wide range of ages and tastes. The challenge is to find something that everyone likes, is seasonal, but which still makes each dining experience a special one.
As usual, Trevor has created dishes that effortlessly fit this brief.
Fig  & Parma Ham, Basil Meringue, Cracked Pepper Mascarpone, Red Wine & Balsamic Reduction, Candied Pine Nuts
Loin of Lamb, Slow Cooked Shin Parcel, Vine Cherry Tomato, Buttered Vegetables, Fondant Potato and Creamed Kale
Coffee and Valrhona Chocolate Mousse, Pistachio Shortbread, Vanilla Cream,
Honeycomb Sugar Cube
The fig and parma ham starter is an old favourite given a delicious modern twist with the addition of the creamy pepper mascarpone. To follow, a Lamb dish that has proved so popular it is featuring on our menu for the second year running. Lamb can sometimes be a divisive choice, but this colourful dish with its tender loin and delicious lamb shin parcel is a real guest list pleaser. For an ideal dessert, what ingredient could be better than chocolate? (I'm a self confessed chocoholic!)  Our mousse, featuring cocoa-rich chocolate from master Swiss chocolatiers 'Valrhona', and real honeycomb, is a deliciously indulgent end to your first meal as a married couple."

Frances Lambton:  Grand Gala Dinner
"As the Sales Executive at Dundas, I am frequently asked for advice on menus for grand gala dinners. Clients expect their meal to be as stunning as their surroundings, which gives us a lot to live up to! It's great to know that I have the support of our friends at Prestige in creating a menu that will exceed people's expectations. Gala dinners need not just to be delicious and served with flair, but should ideally be excitingly presented and offer unique culinary twists in order to form a lasting impression in the minds of attendees.
Whipped Goats Cheese, Beetroot Three Ways, Micro Leaf, Candied Sherry Walnuts
Braised Daube of Scottish Beef, Rich Red Wine Gravy, Buttered Vegetables, Roast Potato
Olive Oil Cake, Rum Soaked Pineapple, Raspberry & Honey Cream, Salted Caramel popcorn
I have chosen this fine dining restaurant-style trio as my dream starter as it takes a much underrated vegetable and serves it in three surprisingly different ways, setting the tone for the meal as adventurous but reliably mouth watering. Daube of Beef offers a great alternative to the standard steak. It is a generous cut, gently braised in wine and French herbs for an extended period to produce a tender and succulent piece of meat that is best accompanied simply. As the final course, the dessert should be a spectacular one that stimulates conversation. This will certainly be the case with this dessert, which is beautifully light and moist due to the olive oil used in its preparation –the salted caramel popcorn is a taste sensation!
As a brief footnote, I strongly recommend the lovingly hand-made rhubarb marshmallows to accompany your coffee –both sweet and tangy; every bit as good as they sound!"
Brigita Irvine: Intimate Boathouse Dining for two
"As Events Coordinator, I am involved with many different types of Dundas events, but one of my favourite responsibilities is organising stays in the unique boathouse on our private loch. This romantic retreat is often booked for special anniversaries or wedding nights, so it's important to have a food offering which matches the occasion. When a husband surprises his wife with a boathouse stay, what could be more perfect than a bottle of our house champagne on ice, and a mouth-watering selection of handmade canapés, or if something more substantial is required, our smoked salmon and arran cheese platter? However, for the next level in indulgence, we offer the option of a full three course meal, served in the boathouse by your own waiter and produced by your own chef. My perfectly romantic menu for two is as follows:
Whisky Cured Salmon, Cumin Crème Fraiche, Fennel Rémoulade, Mustard Seed Dressing
Breast of Gressingham Duck, Parsley Root Puree, Duck Leg Bon Bon, Buttered Vegetables, Star Anise Jus
Lemon Verbena Pannacotta, Lemon Crumb, Poached Rhubarb.
Being someone with a palate for perfection, the ideal menu I have created for a Boathouse stay at Dundas could not be recommended highly enough. My reasons for selecting this menu are no doubt the same ones that convince couples to stay in the Boathouse. Whether it be a special occasion, a return visit or a surprise for a loved one, one thing I can guarantee is that they will be looking for something different, something with a touch of class.
To start with, I have chosen the Whisky-cured salmon; more complex in flavour than smoked, it combines beautifully with the delicate spice of the Cumin crème fraiche and Mustard seed dressing. A delicious mixture of flavours that does wonders for the critical palate!
I then went on to choose the Breast of Gressingham Duck – with its faultless presentation, rich to taste Duck Leg Bon Bon, delicately Buttered Vegetables and complimentary Spiced Star Anise Jus, this dish is one for the duck lover.
And last but no means least – dessert. This course should not be seen as the end to the meal, merely the start to the rest of the evening. For this I have chosen the Lemon Verbena Pannacotta. With its stylish presentation, sweet Citrus Pannacotta. Lemon Crumb and Poached Rhubarb, this dessert is the king of all desserts. Citrus fresh yet mouth-wateringly delicious. One to remember!
I am sure that guests will enjoy this meal as much as I did!"