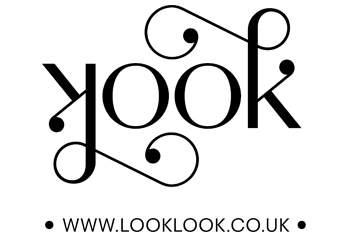 07 Aug

LOOKLOOK Photo Booths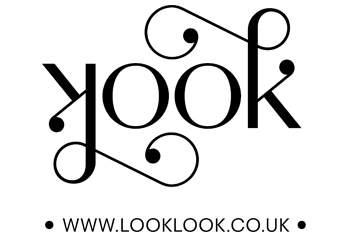 Guest blogger – Frances Spencer.  LOOKLOOK Photo booths is Scotland's original photo booth hire company. Having been on the scene for a long time we've provided booths to hundreds of events, weddings and parties.
All our bespoke photo booth packages include unlimited prints, a 'booth butler' and a web gallery. Guests can take away prints on the night and share them online after the event – what a lovely way for your guests to share happy memories from your wedding or party! We aim to get to know our customers and provide the most tailored service possible.
Our headquarters are in Edinburgh and we offer free delivery for events, weddings and parties within 1.5 hours drive from Edinburgh.  This means that there is no transportation cost for your event at Dundas Castle!
We offer a wide range of booths.  We can offer the vintage feel of our Retro booth, you can channel some country-chic with the wooden photo booth called the Deer Hunter and we can provide a booth perfect for larger groups with the 'Pod' booth.  No matter what theme your wedding or corporate event has our booths and props will enhance your guest's time at the Castle.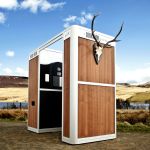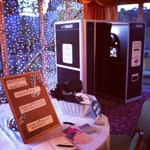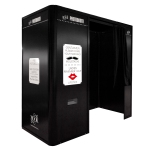 All of these photo booths have been designed and built in-house, offering exceptional picture quality and prints making them perfect booths for weddings, parties and corporate hire.  We are also specialists in corporate photo booth hire and have many years of experience of working with iconic brands such as Irn-Bru, John Lewis, The Scottish Sun and Virgin.
All LOOKLOOK photo booths have been designed with branding in mind, allowing for companies to completely wrap the booth in their own style and design. Clients can also add their logo and design to the instant prints for seamless brand exposure.
New for 2014 are a range of delightful print styles to suit all tastes and wedding styles.
We spent a lot of last year talking to our brides about their weddings and what style of wedding they liked. The Vintage trend was still really strong but people also said they really wanted their wedding to be unique to them and express who they are as a couple. So we designed a range of print styles than can be personalised to the couple and sum up their personality.
There are two vintage wedding inspired print styles – Rose and Teal. These muted, tonal colours are bang-on-trend for a vintage wedding the photos are placed within a delicate white border to frame the photographs. And then there are two more edgy styles; Fun is inspired by a school notebook and full of scribbles and doodles; and Folkie is our instagram print, it has a filter on it to create more artistic looking images and a Wild West saloon style font for individuality.



Prices start at £545 for wedding hire and prices for corporate events are available on request.  Please contact LOOKLOOK on frances@looklook.co.uk or 0131 281 2675 to request the wedding brochure and your free print sample.