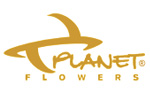 Guest Blogger - Gemma Bain, Planet Flowers.
About Planet Flowers.
We are an event and wedding floral styling company based in Edinburgh and we specialise in enhancing wedding and event venues through the art of floral design.  By embracing the venue, the team here at Planet Flowers use colour and texture within our designs to complement not only the venue but the ambience and style of the interiors.  It has been our pleasure to provide flowers throughout the UK and further afield for over 40 years.